Dry Eyes No More
Do You Experience Dry Eyes?
Every day you depend on your vision, but annoying dry eye problems might prevent you from living life to the fullest. Dry eyes are not only irritating, but they can also affect your productivity at work, making doing daily tasks more challenging.
Dr. Kaur and Dr. Patel along with the staff at Advanced Eyecare of Edgewater is dedicated to giving you the eye care you require and merit. We are pleased to offer OptiLight by Lumenis, which was created especially to help you find relief from dry eye illness, to our patients at our practice.
What Is OptiLight by Lumenis?
OptiLight by Lumenis is a safe, gentle, and effective treatment for dry eye symptoms caused by meibomian gland dysfunction. This non-invasive procedure is the first and only FDA-approved intense pulsed light (IPL) treatment for dry eye management.
OptiLight uses precise pulses of light, done in the area below the eyes, to reduce dry eye symptoms. This 10-15 minute procedure can significantly relieve dry eye symptoms by:
Increasing tear break-up time
Reducing the amount of demodex mites and bacteria living around your eyes
Eliminating blood vessels that contribute to inflammation
Improving meibomian gland functionality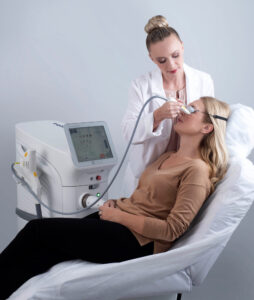 To learn how OptiLight can assist you, schedule a consultation right away!