Doctors & Staff
Meet the experienced and friendly doctors and staff who make Advanced Eyecare of Edgewater a proud provider of vision care products and services in Edgewater.
Sundeep Kaur, O.D.
Dr. Sundeep Kaur is an Optometric Glaucoma Specialist and a Therapeutic Optometrist, practicing full scope Optometry throughout NJ since graduation. During this time she has established herself as a specialist in the areas of glaucoma, specialty contact lenses, dry eye disease, pediatric eye exams and myopia control. Her training in contact lenses includes difficult fits such as keratoconus, irregular astigmatism, and corneal transplants.
Dr. Sundeep Kaur originally grew up in Bethlehem, PA and graduated from Drexel University in 2010 with a Bachelor in Health Sciences. She went on to complete her Doctorate in Optometry at Inter American University of Puerto Rico in 2014.  After graduating Dr. Kaur worked with an ophthalmology group for several years honing her skills in specialty contacts and glaucoma management.
Dr. Kaur's proficiency in 4 languages, including Spanish, Hindi, and Punjabi has helped her serve diverse communities throughout New Jersey.
While not at work Dr. Kaur enjoys spending time with her Husband and their dog, Diesel. They currently live in Weehawken, NJ right outside of NYC and often spend weekends in the city trying out new restaurants. Dr. Kaur also enjoys traveling to warm places and reading a good book.
Dr. Sundeep's license # 27OA 00657000
Dr. Sundeep's Oral medication certification# 27OM00124400
Salman Farooqui, O.D.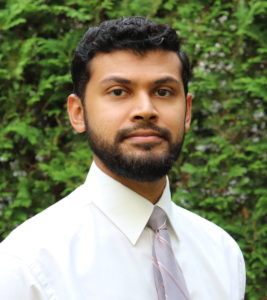 Dr. Salman Farooqui graduated from the Honors College at the New Jersey Institute of Technology with a bachelors in Biochemistry. He later went on to earn his Doctor of Optometry degree from the Pennsylvania College of Optometry where he graduated with Honors in Clinical Patient Care.
With advanced training in contact lens, cornea and disease Dr. Farooqui seeks to provide high quality patient care in his home state of New Jersey. He was recognized with clinical excellence in the Specialty Contact Lens and Cornea rotation at the prestigious Eye Institute in Philadelphia where he fit medically necessary sclerals, hybrids and RGPs. In addition, Dr. Farooqui received training in the management of diabetic eye exams, glaucoma and post-operative care at the Lyons VA Medical Center.
Dr. Farooqui is a member of the American Optometric Association and the New Jersey Society of Optometric Physicians. He lives in Central Jersey with his loving wife and enjoys biking, archery and exploring the great outdoors.
Halie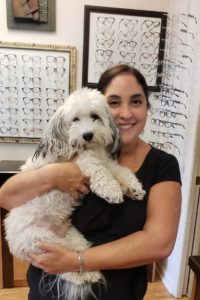 Meet Haile, our warm and friendly optician.  Who carefully and patiently listens to all your needs and visual preferences to properly fit you with the perfect pair of glasses.  She is expertly trained on the latest best-in-class technology on lenses, materials and fashion trends.
Haile is your best resource for assessing your face shape, hair color and skin tone and provide you with many choices that will complement your look and style.  You will appreciate her trained eye and attention to detail when matching you with the very best pair of lenses and frames that will help you look good, see better and feel confident.