Use Your Vision Benefits
Before They Expire in 2022
Many vision benefits and flexible spending accounts (FSA) offer benefits that expire at the end of every year. If you do not use them, you'll likely lose them in 2022.  In most cases, if your plan allows you a new pair of glasses or contact lenses they don't carry over.  So, if you haven't used your benefits this year you have essentially missed out on new eyeware or lenses this year.  And why would you lose out on benefits you've worked so hard for in 2022?  Don't waste your 2022 benefits and use them before they're gone forever.
Schedule an appointment today and use your benefits before they expire.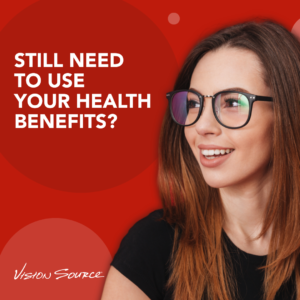 And don't forget you can use your Flex Spending Account (FSA) or Health Savings Account (HSA) on:
Eye Exams
Glasses
Sunglasses
Contact Lenses
Contact Lens Fittings
Vitamins
Eye Compress
Diagnostic Testing
Dry Eye Treatment
Myopia Control
Vitamins
Accessories
Copays, Deductibles and Account Balances
We hope to see you soon!