November is Diabetes Awareness Month
Diabetes Protect Your Vision
The National Diabetes Statistics Report for 2020 show that cases of diabetes have risen to an estimated 34.2 million, according to the CDC's (Centers for Disease Control).[1]   Patients with this condition should be aware that diabetes not only affects their overall health but it can also affect the health of their vision.  That's why it's important to maintain healthy blood sugars and protect your vision by visiting your eye doctor regularly.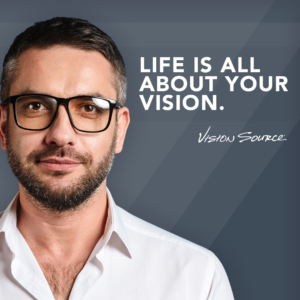 Higher Risk of Eye Diseases
Patients with diabetes are at a higher risk of developing several different eye diseases.  These eye diseases include cataracts, glaucoma, diabetic macular edema (DME), and diabetic retinopathy.  These eye diseases combined make diabetes the leading cause of blindness around the world and the most common cause of blindness in Americans who are close to retirement.
According to Vision Source, Type 2 diabetes (or gestational diabetes, which works the same way while it lasts) impairs the body's ability to use insulin to regulate blood sugar effectively.  And high uncontrolled blood sugars are unhealthy as sugar feeds harmful bacteria and they are hard on blood vessels raising the risk of infection.  This can lead to several of the following sight-threatening conditions:
Cataracts
People with diabetes are two to five times more likely to develop cataracts than people without diabetes. The cause is poorly controlled blood sugars that can cause swelling in the lens of the eye, and it can also cause opaque proteins to accumulate in the lens, making it cloudy.  Luckily, cataracts can be surgically removed through an outpatient procedure that restores vision in nearly everyone.
Glaucoma
Glaucoma is a disease that damages your eye's optic nerve. It usually happens when fluid builds up in the front part of your eye. That extra fluid increases the pressure in your eye, damaging the optic nerve. Diabetics are more likely to develop glaucoma as their non-diabetic peers. Glaucoma doesn't always have symptoms in the early stages, which is one reason it's so important to keep up with regular eye exams.
Diabetic Retinopathy And DME
Diabetic retinopathy is an eye condition that can cause vision loss and blindness in people who have diabetes. It affects blood vessels in the retina (the light-sensitive layer of tissue in the back of your eye).
High blood sugar puts a serious strain on blood vessels, which is why diabetes is such a serious risk factor for retinopathy. If it advances far enough, diabetic retinopathy can become DME, which involves blurred central vision and can lead to retinal detachment and blindness. [3]
If you have diabetes, it's important to get a comprehensive dilated eye exam.   Diabetic retinopathy may not have any symptoms initially, but finding it early can help you take steps to protect your vision.  And managing your diabetes is the most important component and staying physically active, eating healthy, and taking your medicine.  All these components will help you prevent or delay vision loss.
Protect Your Sight with Regular Eye Exams
Advanced Eyecare of Edgewater has the experience and equipment necessary to diagnose and often treat the eye diseases detailed above, as well as many other eye diseases. For more information please schedule an appointment with our experienced, friendly and professional eye doctors. Together we can help you keep healthier vision for life.
Source:  
Centers for Disease Control – National diabetes Statistics Report
National Eye Institute – Diabetic Retinopathy
Vision Source – Diabetes-and-vision